First Snapchat. Then Instagram, Facebook and Whatsapp all adapted the new format: Stories.
The news feed is outdated and stories are becoming the standard for content sharing.
This isn't about who invented what, it's about a format that works. A format that makes users more engaged than ever. Why are social media stories so much more interesting than the news feed?
Because rather than posting a singular highlight of our day to the news feed, we can share several moments in a story over a 24 hour period. The camera is becoming the focus and the new keyboard.
It can be hard to capture moments and feelings and put them into words. The camera makes it easier to share photos and videos of our lives and sum them up in a sentence.
The News Feed Was Originally Designed for Desktop
When Facebook first launched the News Feed in 2006, it was designed for desktop. The point was to use the keyboard to share text and links. That was great before we all had smartphones. Social media now needs to be perfectly formatted for mobile.
We want easy access to the platform when we're on the bus, laying in bed or waiting in the doctor's office. This is so we can quickly share content with friends and followers. You can make a boring errand into a fun picture with a sassy caption. We want taps and swipes! Preferably with pictures and videos that take up the whole screen.
With a vertical feed it's hard to put together a bunch of photos that someone can follow. However with stories, viewers can see a story from beginning to end instead of the latest post or posts that algorithms might think you like.
Another part of what makes stories more popular is that they disappear after 24 hours. This attracts more people to view the story before it's gone.
Facebook is seeing a drop in updates for the news feed since sharing to a feed isn't quite as enticing anymore, nor is consuming content via a vertical feed.
Did Snapchat die when Instagram stories were introduced?
Instagram stories slowed the growth of Snapchat after it launched. It immediately got the double daily active users of Snapchat mostly because the users already were familiar with the platform and the fact that it's easier to share with followers you already gained.
Today, more than 200 million people use Instagram Stories every day. Snapchat reports it has 161 million daily active users which still makes them a leading social media platform even though Instagram is taking over a lot of engagement.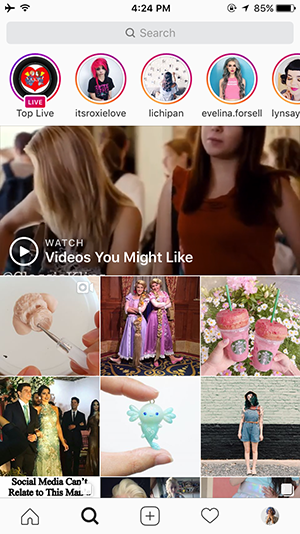 It's no longer about sharing the perfect moment. It's about sharing the story of your life.