The holiday season is usually the most profitable time of year for online businesses. Customers are researching, lists are being shared and grandma and grandpa like to start early.
This increase in traffic and sales can cause a lot of stress for e-commerce owners. To save yourself from the stress, you need to prepare your store in time by creating a holiday marketing plan.
In this post, we outline a guide of what you should be doing to prepare your store for the holiday season and boost holiday sales.
When To Begin Preparing The Holiday Promotion
Sooner is better than later. People start searching for "Christmas Gift Ideas" beginning in August already! Get ahead of your competition and start planning for your holiday marketing as soon as possible.
Inventory Tracking
Make sure your inventory is fully stocked before the holiday promotion begins. Determine the volume of old inventory and the new stock you'll have to order. You also need to consider that possibility of your suppliers running out of stock, so you should order in advance.
Prepare Your Website
Analyze and Review
You need to analyze last year's statistics and learn from them. Understanding the results of your previous campaigns can help you create better campaigns this year.
Here are some examples of questions you should ask when reviewing last year's data:
What were your most successful campaigns?
What was your most popular product?
Which days had the best traffic?
Which traffic source was the most popular, and most profitable?
How much total revenue did you earn during this period?
What was the average order value?
Which keywords worked well?
What did your competitors do?
>>  Learn how to set your holiday marketing goals with this tutorial and worksheet  <<
Give Your Site a Holiday Theme
Tailor your website for the Holiday Season by giving it a holiday theme. Change your banners to promote Christmas sales. Adding a countdown timer is a great way to increase urgency.
Holiday Categories
Holiday category pages will make it easier for people to find what they are looking for. Create categories for discounts, deals and gift packages. Gifts for mom, kids or any other target audience you may have also make it easier for people to shop. Holiday categories keep people in the holiday spirit!
Shipping & Return Policy
Shipping and return policies can make it or break it when it comes to holiday shopping. Customers want to make sure they receive their packages on time before Christmas and that it's possible to return the product if their gift wasn't the right one.
Make sure the delivery time and shipping costs are clear on your site. Specify when their gifts will arrive to eliminate doubts, which can lead to a quicker cart to purchase decision.
Explaining the details of your return conditions increases the trust of your visitors. Offer a longer return policy for purchases in November through December is also a good way to make the customer stop doubting to buy or not. Keep it simple and consider accepting returns on gifts through January 15th.
Customer Service
During the Holiday season, you need to be on top of your customer service. The customers will contact you more often and asking questions about delivery time or the products. Make sure you're always available for any customer inquiries. Integrate a live chat to your site to give an even quicker response.
Plan Your Advertising
Be sure to plan what channels you want to focus on and create a budget of what you are ready to spend. You want to take enough time to be creative and adjust your budget to the campaigns.
Create a promotional calendar that allows you to plan out every step to execute your campaigns. With a promotional calendar, you will be able to organize the dates and time for your entire holiday campaign.
I've created a promotional calendar that you can download for free!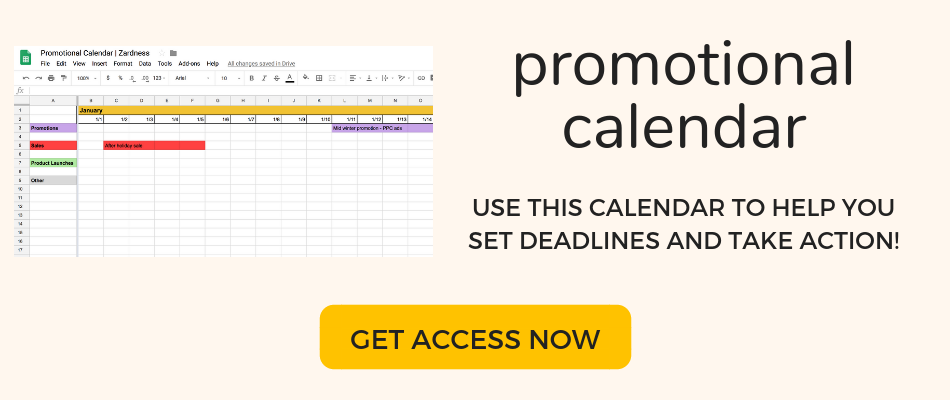 Holiday Email Campaigns
You should be more active in your email marketing during the holiday season. Remind your previous buyers and leads that you exist and that you have great promotions during the holiday. Email marketing can be one of your best source of traffic and your best ROI. You already have the customer database – be creative in the emails and you will increase traffic and generate sales. Combine promotional emails with holiday tips for decorating, holiday outfit inspiration, new recipes or whatever makes sense with your brand.
Focus on Content Marketing
By creating blog posts, gift guides and shopping tips, you will encourage your customers to visit your website to get inspired. Create related graphics that you can share on social media and in the email campaigns. Creating content like blog posts are also great for SEO.
Create a Social Media Calendar
During the holiday season, it's vital that you increase your social media presence. People are more open to shopping and are the lookout for promotions. Schedule a post a day beginning on November 1st and continue to post more the closer it gets to Christmas. You can use a social media scheduling tool to save yourself some time. Combine regular posts with 24-hour stories and live videos. It's also great to run a contest during this time or offer an exclusive gift for your followers. If you're hosting a giveaway, an easy way to increase sales is to offer a similar item or package at a discount for those that didn't win.
Paid Advertising
You may want to consider using pay-per-click ads for your holiday promotions. It's a great way to get in front of your target audience and increase your holiday sales. Keep in mind that many retailers advertise during this time and the cost per click can get a bit more expensive. Use a strong call to actions in your ads like "free shipping", "holiday sale" or "percent off" to entice buyers.
There are many pay-per-click channels and you should choose the platform that your customers are browsing most.
Here are some examples of PPC platforms to advertise your holiday promotions on:
Google Ads
Facebook Ads
Instagram Ads
Pinterest Ads
Gift Card Promotions
A great way to drive sales on your online store during the holiday season is to offer gift card promotions. To avoid buying someone a gift they don't like, many people buy gift cards as presents for Christmas. Gift cards also help to boost sales, because people are likely to spend more than the value of the card.
Conclusion
The last quarter of any year is the busiest and most profitable time of year for retail and eCommerce. As a business owner, it's important that you take all the steps possible to prepare your online store for the holiday season. Get it done now so during Holiday season all you need to focus on is your customers!
I hope you're feeling better prepared to take on this holiday season!
If you want more guidance on your holiday marketing, contact me at sam@zardness.com to set up a consultation.
When do you usually start your holiday promotions? Let me know in the comments below!